Erin M. Floyd, Ph.D., LLC
CREATING MEANINGFUL CHANGE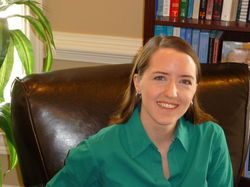 Erin M. Floyd, Ph.D.
Licensed Psychologist
1805 Herrington Road, Bldg 2
Lawrenceville, GA 30043
Ph (770) 785-2704, ext. 22
Fax (770) 216-1593



You place a great deal of trust in who you choose as an expert to help you and your loved ones, and I respect that. I strive to maintain a warm and inviting practice with the highest standards of confidential and personalized care. I have a Ph.D. in clinical psychology with advanced expertise in clinical child, pediatric, and family psychology. I carefully review the latest research findings and use treatments that work. My goal is to work with you as a team to help you thrive and get back to enjoying life to its fullest as soon as possible.
I opened my private practice in 2006 and counsel children, adolescents, adults, and families from all walks of life with problems that have arisen in their lives that they simply are not able to handle on their own, but with a little assistance and a guiding hand they can overcome.
If you are concerned about yourself or your child, feel free to call my office for a free initial telephone consultation so that we can discuss how I may help you. My services include psychological evaluation and psychotherapy, involving individual and family therapy, parent consultations, and case management. Additionally, I often work in collaboration with a variety of other health and educational professionals.
My office is convenient to the Gwinnett County and neighboring areas of Atlanta. I appreciate you taking the time to review information about my practice. I hope it is helpful, but please know it is not exhaustive. Please contact me if I can answer any questions or be of further assistance.
Current/Upcoming Activities
Authoring child relaxation book series

Expert contributor for BabyMamaLove.com article on teaching meditation to children

Expert contributor for The Examiner article on parenting stress